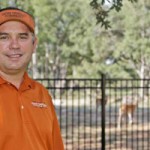 Hicks Fencing: Putting The Customer First
In the year and a half since Tracy Hicks established his fencing business, his good reputation and his business have grown correspondingly. Hicks Fencing Company was first written up in Focus on Georgetown magazine in August 2011 (http://focusonourtown. com/2011/08/21/building-fences- easier-than-mending/), when Tracy's penchant for reliability and integrity was highlighted. "I treat every job as if it were mine—my fence, my home. I think that's important." Tracy said this a year ago, and he's still saying it today. His growing business reflects that his customers agree with his ethics and his belief in making sure that his customers are properly taken care of.
Although Hicks Fencing provides all types of fencing for homes, businesses, estates, or ranches, just installing a fence is not enough for Tracy and his team. He insists on using superior materials so each fence will not only be functional, but also add value and beauty to the property. He considers not only what the fence will look like immediately after installation, but also after it has been in place for a few years. The types of fences Hicks Fencing can install include wood privacy fences, chain link, split rail, ranch, Ameristar Ornamental Steel, vinyl, custom gates, and they also can install automatic gate openers.